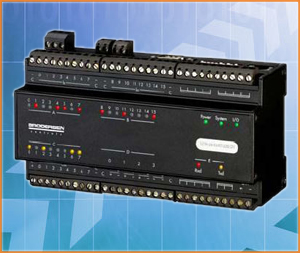 The Brodersen RTU32S Series is a small and compact RTU, PLC and Industrial Controller based on a 32-bit 200 MHz ARM CPU with a Realtime Operating System.
Unique flexibility in configuration and programming sets standard in combined RTU, PLC and Utility Gateway functionality. Unsurpassed user-friendly tools and well-known environments keep your application development quick and simplified.
The RTU32S is fully compatible to the other RTUs in the Brodersen RTU32 family – The high-performance RTU32 and RTU32R products. This gives you ultimate scalability in applications. You can use your straton application program from the RTU32s in any other RTU32 or RTU32R products – without any changes. And one application development tool for the complete RTU32 family reduces your project investment.
INTELEC's Remote Terminal Unit (RTU) and Programmable Logic Controller (PLC) solution is based on Brodersen industrial controller RTU32 family of products.
We design and engineer, procure, build panels, Install, test and commission the substation for data acquisition, tele-metering and control.
We design and engineer, procure, build panels, Install, test and commission control and monitoring systems for small and medium size process industry.
Renovation and modernisation of control and monitoring systems.
Design and engineering services
Procurement/procurement support
Panel building, wiring, wiring, testing and FAT
Panel erection, cabling and system installation
System testing and commissioning
SAT
As built drawings
Project management services
Renovation and modernisation services.
---
RTU and PLC Solution – Promoted products and features
RTU from Brodersen
Features:
RTU32 Series is a compact RTU & PLC based on a 32-bit 500 MHz CPU with a Realtime Operating System. RTU32 supports multiple utility protocols: 61850, DNP3, 60870, DNP3 WITS, Modbus, profibus, Profinet, DF1, DLMS… and more. Conversion between protocols is now easy!
With configuration and programming facilities that provide unique flexibility, the RTU32 Series sets new standards for combined RTU, PLC and general communication performance. All these facilities and possibilities are provided through user-friendly tools and well-known environments – keeping your application development deployed fast and simplified.
RTU32 Series is the ideal solution for your utility or infrastructure application. With its versatility RTU32 can take almost any role like local regulation and fast control, advanced communication gateway functions and data concentrator functions.
The RTU32 series can be programmed in all IEC-61131-3 languages viz; LD, FBD, ST, IL, SFC and function Blocks can be created in C, C++.RTU32 can be connected directly to a compatible 3G modem via USB, all setup is done at the webpage. Function Blocks are ready made for seamless integration with the modem. Use the built in VPN client where all configuration are done at a webpage. With the support for up to 8 x 3kV isolated RS232/RS485/RS422 com ports and possibility of connecting up to 1000 local I/Os and +30,000 distributed I/Os, it is among the most versatile RTUs in the market.
WebServer configuration
Advanced PLC function support with full IEC61131 language compliance
Ethernet and serial communication ports for flexible connectivity to SCADA, field devices and remote systems
Multiple communication driver support
Support for wide range of communication medias - radios, PSTN, GSM, GPRS, 3G etc.
Flexible I/O support provided via integrated and expansion I/Os
Several integrated power supply options
---
Supported Drivers & Protocols:
Allen-Bradley DF1
BacNET
COMLI Master
DLMS/IEC1107
DNP3 Client & Server
DNP3 Master & Slave
DNP3 WITS Server
Ethernet/IP
IEC60870-5-101 Master & Slave
IEC60870-5-103 Master
IEC60870-5-104 Server & Client - KEMA certified
IEC61400-25
IEC61850 Client - KEMA certified
IEC61850 Server (incl. GOOSE) - KEMA certified
Modbus Client/Server & Master/Slave
MQTT Client
ProfiBus DP Master
ProfiBus DP Slave
ProfiNET Client
SNMP Agent
Partnership with Local Manufacturing Shop
An ISO 9001 Certified Facility
20,000 Sq Ft Staging Area
Advanced Electrical Testing Facilities
Computerized Three Phase Injection Test Kit

Communication Protocol Test Bed

Real Time Simulation Lab
Qualified Wiring Technicians , Test Engineers
Qualified Field Technicians
Experienced Management with 30+ years Experience in Manufacturing.
---
Manufacturing Staff
Shop Supervisors: 2
Wiring Technicians: 6
Electrical Test Engineers: 2
ACAD Specialists: 3
---
On-Site Services
Field Supervisors: 2
Cabling Technicians: 10
Commissioning Engineers: 4
Project Admin: 1